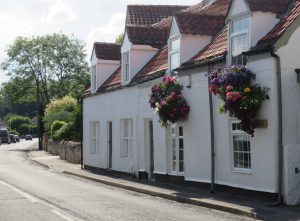 Following the departure of the Romans, who had a small fort two miles to the west which guarded the crossing of the River Skell by the Great North Road, an early wooden Saxon church was established at Campsall. Following the Norman Conquest a large church was built out of local stone to serve the local population who largely worked on the land. During this time Campsall was rapidly growing in importance and was granted a Royal Charter in 1294 entitling it to a weekly Thursday market and an annual four-day fair. These had ceased by 1627. A public house, the Ring of Bells (now called the Old Bells) was opened near the church and this pub is believed to be one of the oldest in Yorkshire.
During the 18th century the village was dominated by the landed gentry. At opposite ends of the village, the Bacon-Franks constructed Campsall Hall and the Cooke-Yarboroughs built Campsmount. The villagers were still mostly employed with farming and working on the two estates and even the establishment of nearby Askern Colliery in 1910 had little impact on the work force.
Campsall was historically a large parish in the West Riding of Yorkshire which included the townships of Norton, Sutton, Askern, Fenwick, and Moss, all of which became separate civil parishes in 1866. The civil parish of Campsall was abolished in 1938 and merged into the parish of Norton.
It was not until the 1950s that major changes began to affect the village. During this time the Bacon-Franks abandoned Campsall Hall and then from 1956 the local authority and the National Coal Board developed a large area of housing in Campsall Park and Campsall Hall was converted into flats until 1986 when it was demolished. The Cooke-Yarboroughs had left Campsmount in the late 1930s and the building was used as a military hospital until demolition in the 1950s. A private housing estate was built during the 1970s in the grounds of Campsmount Park.
The village today
Today Campsall comprises the old village near the church and the newer part of Campsall formed in the 1950s from the Council and NCB housing projects. Askern Colliery ceased production in 1993. Sadly the Old Bells public house is presently closed.
Campsall hosts the secondary school Campsmount, which caught fire at around 1:30 a.m. on 13 December 2009, and suffered irrepairable damage with only the David Ashton Sports Hall and The Expressive Arts block and Library surviving the devastating blaze. A rebuild of the school was completed in April 2012 and it is now Campsmount Academy.